A lot of rubadubdub with some lubricant. As you start getting wet and your clit is begging I would tease you by rimming. Than I would swirl around your beautiful pussy. You keep trying to push against me but I keep staying at the rim. Than it slides right inside. We do that for a while until we climax together.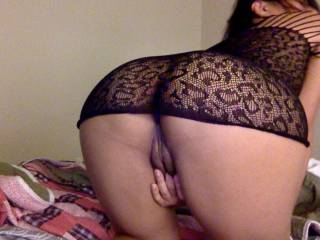 Mmmmmy favorite one position! I'm gonna grab that hot ass with my hands and start to lick gentle and hard rubbing up/down through your ass gap - your pussy and asshole, playing with clit, eat it all your sweet pussy, continue do tongue fuck and fingering your holes. Make your pussy very hungry to feed her deep fulfilled with my big very hard cock. 
I'm gonna drive you crazy and make you very wild.
You gonna groan, moan, roar, scream.
I'd (I'll) kneel and fixing your legs with mine or climb on your sweet hot ass, start teasing your ass and pussy rubbing up/down through your ass gap with dickhead of my big hard cock in my hand, then start to ride and drill you - first tease your holes with my dickhead do rubbing circles then slide shallow dickhead only, then stinging you in/out (pull your hair back, nibble your shoulders and neck), then ramming and drilling deep fulfilled you deep inside (of course if you like hard and rough sex). That will gonna be a wild ride. So sexy body an nice position to kiss all the way your sexy legs, thighs ,play with your nipples, while u offer u open ass for me to tease u, then eat your pussy while u still hold ass cheeks open, then i will inspect it play with it lightly, look so close, kiss and lick around your ass hole slowly , then give your ass hole the most passionate french kiss, where u feel my tongue pushing so deep inside u? Well I would want to lick that clip, suck on the titts and nibble on your nipples Then I would Turn you around and with one hand grab you by the back of the hair, slide deep and hard into you.Spanking your ass with my other hand.Giving you a deep hard pounding and in the end either filling you with my hot load Then we do it again only this time covering those beautiful titts. Mmmmmmm would lovve to treat you proper.;) Lick it spread it, spit on it and slap it. Caress and tease that luscious lil naughty juicy and wett kitty of yours until you can't take it any more.;) I wanna make you purr and moan;) I think if you read my name you'll know I have what you need. Ready to make a mess out of you.😏😈😋 I love to kiss and play with each and every part of your so sexy body, kiss nipples and suck them while look into your eyes, then go down kiss even your hands and fingers, tummy, thighs, legs even feet, then up again to lick thighs and eat pussy then lick down to your ass hole, will u let me lick your ass hole? Will u open ass cheeks to help me?